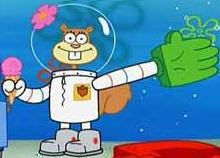 Character Name: Sandy Cheeks
Location: Air-filled dome house (Treedome) in Bikini Bottom
Occupation: Scientist/Inventor
Interests: Clam wrestling, karate, sandboarding, weightlifting, science, tea, any dangerous activity that's filled with adventure (Find the hay in the needlestack, skydiving, etc.), Texas activities (cattle-roping, pie-eating, etc.)
Personality: Sweet and caring, but can sometimes become too obsessed with underwater sports and dangerous when she's angry
Physical Appearance: Buck-toothed squirrel in a wetsuit with an air helmet, pink flower on her helmet, acorn patch on suit, bushy tail. Wears a purple bikini when in the Treedome.
Family: A bunch of family and relatives in Texas, many pets that live in her Treedome (snakes, Wormy, birds, etc.)
Friends: SpongeBob, Patrick and all of her pets
First Episode Appearance: "Tea at the Treedome"
Voiced By: Carolyn Lawrence
Other Info: Hibernates during the winter. Hasn't moved back to Texas because of all the people who care about her in Bikini Bottom. Beat up two seagulls on land. Got SpongeBob fired for playing too much karate with him. Nearly got "swallowed" by the clam she was wrestling. Was able to get into the Salty Spittoon fighting club. Started Christmas in Bikini Bottom. Built a rocket to the moon. Was put in charge in dynamite scenes in the filming of the Mermaidman and Barnacleboy movie. As Miss Appear, was hit by a car because she was invisible. Built teleporters that transport matter. Tossed an anchor 510 yards in an anchor-throwing competition. Brought a flea back from a science convention causing her treedome to become infested. Tested SpongeBob's and Patrick's survival skills by stranding them in the wilderness. Went to Karate Island with SpongeBob and saved him from a Real Estate scam. Got stranded on a desert island after being swept away by a huge wave.
Appearances:
Tea at the Treedome
Ripped Pants
Sandy's Rocket
Nature Pants
Culture Shock
MuscleBob BuffPants / Squidward the Unfriendly Ghost
Scaredy Pants
Karate Choppers
Sleepy Time / Suds
Valentine's Day
Texas
Fools in April
Squirrel Jokes
Christmas Who?
Wormy
Survival of the Idiots
Pressure / The Smoking Peanut
Pre-Hibernation Week
Band Geeks
Sandy, SpongeBob and the Worm
Procrastination
Mermaid Man and Barnacle Boy IV
No Weenies Allowed
Party Pooper Pants
Mermaid Man And Barnacle Boy V
The Great Snail Race
I Had an Accident
SpongeBob Meets the Strangler / Pranks A Lot
The SpongeBob SquarePants Movie
Funny Pants
Mermaidman and Barnacleboy VI: The Motion Picture
Patrick SmartPants / SquidBob TentaclePants
Dunces and Dragons (well, not really, the knight is actually Sandy's ancestor)
Chimps Ahoy
Karate Island
Wishing You Well
Wigstruck
Squidtastic Voyage
Best Day Ever / The Gift of Gum
Waiting
Spy Buddies
To Love a Patty
SpongeBob vs. the Patty Gadget
A Flea in Her Dome
Atlantis SquarePantis
Blackened Sponge
To Save a Squirrel
Pest of the West
What Ever Happened to SpongeBob?
Stanley S. SquarePants
Gone
No Nose Knows
Patty Caper
The Krabby Kronicle
Ditchin'
SpongeBob SquarePants vs. The Big One