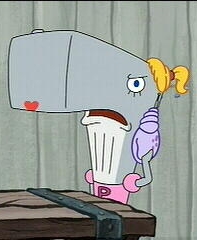 Character Name: Pearl Krabs
Location: Anchor home on 341 Anchor Way, Bikini Bottom
Occupation: None
Interests: Shopping, hanging out with friends, tea parties
Personality: Loud, annoying, cheerful, bossy
Physical Appearance: Large, rectangular head, pink cheerleader outfit with a P in the front, pink boots, blonde hair
Family: Eugene Krabs (father), grandmother, great-grandfather
Friends: Judy and other friends (Whale of a Birthday)
First Episode Appearance: "Squeaky Boots"
Voiced By: Lori Alan
Other Info: Likes to borrow money from her father a lot. Once changed the Krusty Krab into the Kuddly Krab for a bit before she wanted out. Went to her prom with SpongeBob. Tries to get her daddy to get expensive stuff for her but it never works out. Loves the boy band "Boys Who Cry". Threw a big slumber party, which SpongeBob ruined.
Appearances:
Squeaky Boots
Culture Shock
The Chaperone
Scaredy Pants
Sleepy Time
Texas
Hooky
Bossy Boots
Bubble Buddy
Band Geeks
As Seen On TV
The Algae's Always Greener
Party Pooper Pants
Mermaidman and Barnacleboy V
Mid-Life Crustacean
SpongeBob Meets the Strangler
Selling Out
Mermaidman and Barnacleboy VI: The Motion Picture
Dunces and Dragons
Whale of a Birthday
Best Frenemies
The Slumber Party
Grandpappy the Pirate
SpongeBob SquarePants vs. The Big One