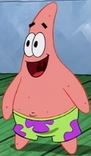 Character Name: Patrick Star
Location: Rock home on 120 Conch St., Bikini Bottom (to the left of Squidward's house)
Occupation: None
Interests: Food, jellyfishing, Mermaidman and Barnacleboy, watching TV, riding kiddie rides and hooks, suntanning, playing with SpongeBob, his secret box, Jeffory the Jellyfish
Personality: Dumb, slow, cheerful, playful
Physical Appearance: Pink, star-shaped, chubby, green shorts with purple flowers
Family: Herb and Margie Star (parents), Junior the scallop (adopted by Patrick), Patar (ancestor), Patrick Revere (ancestor)
Friends: SpongeBob, Sandy, and Squidward (but Patrick isn't a friend to Squidward)
First Episode Appearance: "Help Wanted"
Voiced By: Bill Fagerbakke
Other Info: Along with SpongeBob, journied to Shell City and retreived King Neptune's crown, sparing Mr. Krabs's life. His rock won first place at the snail race. Won a trophy for doing nothing. Thought up and designed a ghost costume for SpongeBob. Won Gary's friendship with a cookie in his pocket. Hired by Plankton to work at the Chum Bucket. Became the Elastic Waistband to help fight Barnacle Man. Made his fake parents believe he was smarter than SpongeBob. Along with SpongeBob, sold a man all of the chocolate bars he had, earning lots of money. Saved Roger the egg's life by catching him when he nearly hit the floor at boating school. Found SpongeBob's nametag when it was lost. Scared the citizens of Bikini Bottom by wearing invisible spray and pretending he was a ghost. Stole a donut from SpongeBob, which turned out to be his in the first place. Disguised himself as a girl after thinking an assassin was after him. Wrote a song to put on the radio that everybody hated. Won a dance contest with a new dance called "The Cramp." Made SpongeBob a new jellyfish net after his was stolen. Joined a band with SpongeBob, Squidward and Plankton. Had surgery to get a nose but it eventually dried up and fell off. Got the ultra rare talking Mermaidman trading card without even trying. Threw the whole town in jail while masquerading as Barnacleboy. Rode the Big One (a huge wave) with SpongeBob, Mr. Krabs and Squidward.
Appearances:
Help Wanted / Tea at the Treedome
Bubblestand
Jellyfishing / Plankton!
Naughty Nautical Neighbors / Boating School
Home Sweet Pineapple
Mermaidman and Barnacleboy
Hall Monitor
Sandy's Rocket
Nature Pants / Opposite Day
Culture Shock
Squidward, the Unfriendly Ghost
Scaredy Pants / I Was a Teenage Gary
SB-129
Sleepy Time / Suds
Valentine's Day / The Paper
Arrgh! / Rock Bottom
Texas
Fools in April / Neptune's Spatula
Hooky
Something Smells
Your Shoe's Untied / Squid's Day Off
Big Pink Loser
Mermaid Man and Barnacle Boy III / Squirrel Jokes
Christmas Who?
Wormy / Patty Hype
Survival of the Idiots / Dumped
Grandma's Kisses / Squidville
I'm Your Biggest Fanatic
Shanghaied
Pressure / The Smoking Peanut
Pre-Hibernation Week / Life of Crime
The Secret Box / Band Geeks
Sailor Mouth
The Fry Cook Games
The Bully / Just One Bite
Sandy, SpongeBob and the Worm
Procrastination / I'm With Stupid
Mermaid Man and Barnacle Boy IV / Doing Time
Frankendoodle
The Snowball Effect / One Krab's Trash
The Idiot Box
No Weenies Allowed / Squilliam Returns
Sponge Guard On Duty
Rock-a-Bye Bivalve
Wet Painters / Krusty Krab Training Video
Party Pooper Pants
Chocolate With Nuts / Mermaid Man And Barnacle Boy V
Club SpongeBob / My Pretty Seahorse
The Graveyard Shift
New Student Starfish
The Great Snail Race / Mid-Life Crustacean
The Sponge Who Could Fly
Born Again Krabs (only on a time card) / I Had an Accident
Missing Identity
The Camping Episode
SpongeBob Meets the Strangler / Pranks A Lot
The SpongeBob SquarePants Movie
The Lost Mattress
Good Neighbors
Funny Pants
Mermaidman and Barnacleboy VI: The Motion Picture
Patrick SmartPants / SquidBob TentaclePants
Have You Seen This Snail?
Dunces and Dragons
Krusty Towers / Mrs. Puff, You're Fired
Ghost Host / Chimps Ahoy
All That Glitters / Wishing You Well
Once Bitten
Bummer Vacation / Wigstruck
Squidtastic Voyage / That's No Lady
The Thing / Hocus Pocus
Driven to Tears / Rule of Dumb
Born to be Wild
Squid Wood / The Pink Purloiner
Best Day Ever / The Gift of Gum
Night Light
Rise and Shine / Waiting / Fungus Among Us
Spy Buddies / Good Ol' Whatshisname
New Digs / Krabs a La Mode
Roller Cowards / Bucket Sweet Bucket
Breath of Fresh Squidward / To Love A Patty
SpongeBob vs. The Patty Gadget / Money Talks / Slimy Dancing
Sing a Song of Patrick
A Flea in Her Dome / The Donut of Shame
Atlantis SquarePantis
Goo Goo Gas
Picture Day / Pat No Pay
Blackened Sponge
The Inmates of Summer / To Save a Squirrel
Pest of the West
20,000 Patties Under the Sea / Battle of Bikini Bottom
What Ever Happened to SpongeBob?
SpongeHenge
Banned in Bikini Bottom / Stanley S. SquarePants
House Fancy / Krabby Road
Spongicus / Suction Cup Sympathy
Not Normal / Gone
The Splinter / Slide-Whistle Stooges
A Day In The Life / Sun Bleached
Giant Squidward / No Nose Knows
Patty Caper
The Krabby Kronicle
Grooming Gary
Porous Pockets
Krusty Krushers / The Card
Ditchin'
Shuffleboarding / Professor Squidward
Cephalopod Lodge / Grandpappy the Pirate
Sand Castles in the Sand / Toy Store of Doom
Pets or Pests
SpongeBob SquarePants vs. The Big One