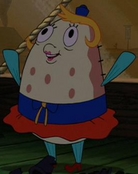 Character Name: Mrs. Poppy Puff
Location: Pink muffler-type house in Bikini Bottom
Occupation: Driving instructor at Mrs. Puff's Boating School
Interests: Hot rods, painting nature scenes, cake, Krabby Patties, walks in the park, fancy restaurants, being away from SpongeBob
Personality: Paranoid, criminous, strict somewhat insane, sometimes gentle and caring
Physical Appearance: Wide, mini sailor's hat, blonde hair, white body, pufferfish prickers, tan spots, blue and red skirt, green arms and legs, red shoes
Family: Mr. Puff (who tragically, yet hilariously was made into a lamp), a female snail resembling Snellie (Squidward's snail in The Great Snail Race)
Friends: Donna from jail (but she was only in a fantasy) and Mr. Krabs
First Episode Appearance: "Boating School"
Voiced By: Mary Jo Catlett
Other Info: Sent to jail for six months because she was responsible for giving SpongeBob the hall monitor suit and title, causing him to wreck havoc in Bikini Bottom. Assigned her class an 800-word essay on what not to do at a stoplight. Dated Mr. Krabs. Got a hot rod by wishing for it and throwing a coin into the Krusty Krab's well. Played electric guitar in the performance of Sweet Victory at the Bubble Bowl. Won't even give SpongeBob his driver's license in his dreams. Was fired due to bad teaching because of SpongeBob not being able to drive well. Gave SpongeBob his license to get him out of her class, then tried stealing his boat mobile when she realized what she did. Her class pet is a chicken egg named Roger. Starred in an instructional video entitled "Boat Smarts". Almost lost her job after SpongeBob printed lies about her in a newspaper.
Appearances:
Boating School
Hall Monitor
Sandy's Rocket
Scaredy Pants
Sleepy Time
Valentine's Day
Texas
No Free Rides
Band Geeks
Procrastination
The Bully
Mermaidman and Barnacleboy IV / Doing Time
Snowball Effect
Party Pooper Pants
Krusty Love
New Student Starfish
The Sponge Who Could Fly
SpongeBob Meets the Strangler / Pranks a Lot
The SpongeBob SquarePants Movie
SquidBob TentaclePants
Mrs. Puff, You're Fired
Wishing You Well
Driven to Tears
Best Day Ever
Boat Smarts
Picture Day
Pest of the West (it's Mrs. Puff's old west ancestor that makes an appearance)
Nautical Novice
Boating Buddies / The Krabby Kronicle
Ditchin'
Pets or Pests