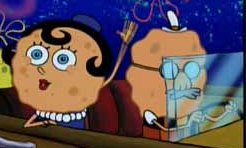 Character Name: Mr. (Harold) and Mrs. SquarePants
Location: Bikini Bottom
Occupation: SpongeBob's parents
Interests: Unknown
Personality: Kind and caring
Physical Appearance: Mr. SquarePants: Light brown, round sea sponge, gray moustache, glasses, brown pants, small white cowboy hat. Mrs. SquarePants: Yellow, round sea sponge, black hair, purple hat and dress, white necklace.
Family: SpongeBob (son), Grandma SquarePants, Grandpa SquarePants, Blackjack (nephew), Sherm, Captain Blue SquarePants
Friends: Unknown
First Episode Appearance: "Home Sweet Pineapple"
Voiced By: Tom Kenny (Mr. SquarePants), Sirena Irwin (Mrs. SquarePants)
Other Info: Bought SpongeBob a boat after Mrs. Puff gave him his license. Came to see SpongeBob participate in Squidward's talent show. Disappointed that SpongeBob still doesn't have his license. Threw a party for SpongeBob's cousin Blackjack.
Appearances:
Home Sweet Pineapple
Culture Shock
No Free Rides
Mermaidman and Barnacleboy IV (only Mrs. SquarePants appeared)
Driven to Tears
Sing a Song of Patrick (shown in picture on SpongeBob's wall)
New Digs
Blackjack
The Slumber Party (shown in family picture that Mr. Krab's broke in SpongeBob's house)