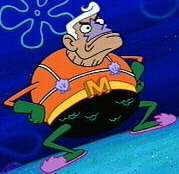 Character Name: Mermaid Man
Location: Shady Shoals retirement home/The Mermalair, Bikini Bottom
Occupation: Crime-fighthing superhero/star on The New Adventures of Mermaid Man and Barnacle Boy
Interests: Watching TV, ice cream, vacations, playing Bingo, Krabby Patties, rocking chairs
Personality: Senile, slow, understanding, heroic
Physical Appearance: Wide, white hair, purple star on his nose, sea shell bra, orange and black outfit, 'M' belt, pink slippers
Family: Unknown (though Barnacle Boy MAY have some sort of relation; Mermaid Man has been seen with a baby photo of him)
Friends: Barnacleboy
First Episode Appearance: "Mermaid Man and Barnacle Boy"
Voiced By: Ernest Borgnine
Other Info: His belt contains a shrink ray. Once had to round up SpongeBob and his friends to fight Barnacle Boy when he became 'E.V.I.L.' Couldn't get his line about Krabby Patties in SpongeBob's Mermaid Man and Barnacle Boy movie right even after 5,003 takes. Uses the 'Invisible Boat Mobile' to get around. Thinks that the game Bingo is called Bonko. Knocked out one of his own IJLSA sidekicks, Captain Magma (Squidward) by hitting him with a water ball. Mistook a bomb on a cone from E.V.I.L. for an ice cream scoop. Thought his and Barnacle Boy's "unite" rings were donuts. Became a zombie after using Plankton's dandruff control shampoo. Ended up in the hosptial because of SpongeBob and Patrick.
Appearances:
Mermaidman and Barnacleboy
Mermaidman and Barnacleboy II
Mermaidman and Barnacleboy III
Mermaidman and Barnacleboy IV
Mermaidman and Barnacleboy V
Mermaidman and Barnacleboy VI: The Motion Picture
Have You Seen This Snail? (a picture of his face is on the paddleball box)
Night Light
Mermaidman vs. SpongeBob
The Card (his voice and picture appeared on SpongeBob and Patrick's trading card)
Ditchin'
Shuffleboarding