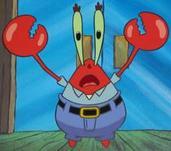 Character Name: Mr. (Eugene H.) Krabs
Location: Anchor home on 341 Anchor Way, Bikini Bottom
Occupation: Owner of the Krusty Krab restaurant
Interests: MONEY, clam fishing, playing cards with Plankton, young peoples' music, anything that's free, The Flying Dutchman's Treasure Hunt board game, stealing
Personality: Greedy, cheap, sometimes nice and sometimes mean
Physical Appearance: Short, red, plump, two yellow eyestalks on top of his head, crinkled nose, two claws, very short legs, blue shirt and slacks
Family: Pearl (his daughter), mother, father, Grandpa Redbeard, Mr. Doodles (his pet worm)
Friends: His buddies that he served with in the Navy, SpongeBob and Squidward (somewhat)
First Episode Appearance: "Help Wanted"
Voiced By: Clancy Brown
Other Info: Turned the Krusty Krab into a playland to attract kids. Accused of setting off Clamu by stealing her pearl. Ate a pair of rubber boots because they drove him insane. Had his millionth dollar taken by a giant clam. Framed for stealing King Neptune's crown and almost got executed for it. Dug up a grave for a soda-drinking hat that he thought he'd get a million dollars for. Used to be in the Navy. Took every jellyfish from Jellyfish Fields to use their jelly for his Krabby Patties. Accused Squidward of stealing his dime and fired him for doing so. Went on a treasure hunt with SpongeBob and Patrick. Switched lives with Plankton. Went into a coma after he lost his mattress that had his money in it. Gave SpongeBob to the Flying Dutchman for 62 cents. Accused of being a robot by SpongeBob and Squidward. Made SpongeBob pay him $100 an hour when he began working at the Krusty Krab. Doesn't let his customers have free napkins. Made a wish that he could talk to his money. Followed SpongeBob all day after seeing him pick up a penny. Started his own newspaper called "The Krabby Kronicle." Turned the Krusty Krab into a boat to impress his grandfather and make him think he was a pirate. Got stranded with his cash register when a huge wave swept him away.
Appearances:
Help Wanted
Plankton!
Pizza Delivery
Pickles
Sandy's Rocket / Squeaky Boots
Nature Pants
Culture Shock / F.U.N.
MuscleBob BuffPants / Squidward the Unfriendly Ghost
The Chaperone / Employee of the Month
Scaredy Pants / I Was a Teenage Gary
Karate Choppers
Sleepy Time / Suds
Arrgh!
Texas
Fools in April / Neptune's Spatula
Hooky
Bossy Boots
Your Shoe's Untied / Squid's Day Off
Bubble Buddy
Squirrel Jokes
Christmas Who?
Dying For Pie / Imitation Krabs
Wormy / Patty Hype
Gary Takes A Bath
Pressure / The Smoking Peanut
Pre-Hibernation Week / Life of Crime
Band Geeks
Sailor Mouth
Jellyfish Hunter / The Fry Cook Games
Sandy, SpongeBob and the Worm / Squid on Strike
Welcome to the Chum Bucket
The Snowball Effect / One Krabs Trash
Nasty Patty
As Seen on TV / Can You Spare a Dime?
Squilliam Returns
The Algae's Always Greener
Krab Borg
Wet Painters / Krusty Krab Training Video
Party Pooper Pants
Mermaid Man And Barnacle Boy V
My Pretty Seahorse
The Graveyard Shift / Krusty Love
Clams
Mid-Life Crustacean
The Sponge Who Could Fly
Born Again Krabs
Missing Identity / Plankton's Army
SpongeBob B.C.
Krabby Land
SpongeBob Meets the Strangler / Pranks A Lot
The SpongeBob SquarePants Movie
Fear of a Krabby Patty / Shell of a Man
Lost Mattress / Krabs vs. Plankton
Skill Crane
Selling Out / Funny Pants
Mermaidman and Barnacleboy VI: The Motion Picture / Enemy In-Law
SquidBob TentaclePants
Have You Seen This Snail?
Dunces and Dragons (once again, the appearance is technically not a Mr. Krabs one, but King Krabs)
Krusty Towers
Whale of a Birthday
All That Glitters / Wishing You Well
New Leaf / Once Bitten
Bummer Vacation / Wigstruck
Squidtastic Voyage / That's No Lady
Driven to Tears / Rule of Dumb
Best Frenemies / Born to be Wild
Squid Wood / The Pink Purloiner
Best Day Ever
Friend or Foe
The Original Fry Cook / Night Light
Fungus Among Us
Spy Buddies / Good Ol' Whatshisname
New Digs / Krabs a La Mode
Bucket Sweet Bucket
Breath of Fresh Squidward / To Love A Patty
SpongeBob vs. The Patty Gadget / Money Talks / Slimy Dancing
The Krusty Sponge
The Krusty Plate
Atlantis SquarePantis
Le Big Switch / Goo Goo Gas
Pat No Pay
Blackened Sponge / Mermaidman vs. SpongeBob
Pest of the West
20,000 Patties Under the Sea
What Ever Happened to SpongeBob?
The Two Faces of Squidward / SpongeHenge
Banned in Bikini Bottm / Stanley S. SquarePants
Penny Foolish
Spongicus
Not Normal / Gone
The Splinter / Slide-Whistle Stooges
Giant Squidward / No Nose Knows
Patty Caper / Plankton's Regular
The Krabby Kronicle
The Slumber Party
Porous Pockets
Krusty Krushers
Dear Vikings
Cephalopod Lodge / Grandpappy the Pirate
Pets or Pests / Komputer Overload
SpongeBob SquarePants vs. The Big One