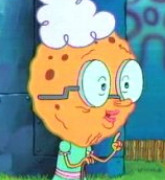 Character Name: Grandma SquarePants
Location: Small Hut House in Bikini Bottom
Occupation: Grandmother
Interests: Baking cookies, kissing SpongeBob, knitting sweaters.
Personality: Loving and caring.
Physical Appearance: Round sea-sponge, glasses, white hair, green and pink dress, cane.
Family: SpongeBob (grandson), Grandpa SquarePants (husband, deceased)
Friends: Unknown
First Episode Appearance: "Grandma's Kisses"
Voiced By: Marion Ross
Other Info: Read Patrick stories and baked him cookies, making SpongeBob jealous. Sometimes gives SpongeBob a ride to work. Gives SpongeBob kisses. Sometimes treats SpongeBob like a baby. Loves to bake.
Appearances:
Grandma's Kisses
Blackjack