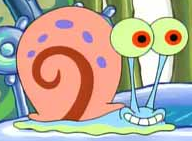 Character Name: Gary
Location: SpongeBob's pineapple house
Occupation: SpongeBob's pet snail
Interests: Reading poetry, watching TV, playing with his favorite ball, spending time with SpongeBob
Personality: Sweet, playful, intelligent
Physical Appearance: Blue body and eye stalks, big green eyes, orange and black eye balls, pink shell with purple spots and red swirl
Family: SpongeBob
Friends: SpongeBob, Patrick, Snellie
First Episode Appearance: "Help Wanted"
Voiced By: Tom Kenny
Other Info: Tied SpongeBob's shoes when he forgot how to. Ran away from home after being neglected by SpongeBob. Brought jellyfish back to Jellyfish fields by tapping his eyes together. Outsmarted SpongeBob so he wouldn't have to get a bath. Got sick after Squidward forgot to feed him. Read poetry for the Krusty Krab talent show. Lived with Patrick for a short time, but only wanted the cookie in his pocket. Bit many citizens of Bikini Bottom after getting a spike from Squidward's yard stuck in his shell. Lost snail race because SpongeBob worked him too hard. Was a hero when he ate all the fungus that infested Bikini Bottom. Got groomed for a pet show by SpongeBob, which Gary (of course) hated. Got in a huge fight with a worm SpongeBob found and drove her away after she had her babies.
Appearances:
Help Wanted
Plankton!
Naughty Nautical Neighbors / Boating School
Home Sweet Pineapple
Pickles
Jellyfish Jam
Sandy's Rocket / Squeaky Boots
Nature Pants / Opposite Day
Culture Shock
MuscleBob BuffPants
The Chaperone
Scaredy Pants / I Was A Teenage Gary
Sleepy Time / Suds
The Paper
Fools in April
Mermaidman and Barnacleboy II
Something Smells / Bossy Boots
Your Shoe's Untied
Big Pink Loser
Christmas Who?
Dumped
Shanghaied / Gary Takes a Bath
The Smoking Peanut
Pre-Hibernation Week
The Secret Box
The Bully
Sandy, SpongeBob, and the Worm
Procrastination / I'm With Stupid
Frankendoodle
The Snowball Effect
The Idiot Box
As Seen on TV / Can You Spare a Dime?
Rock-a-Bye Bivalve
Party Pooper Pants
New Student Starfish / Clams
The Great Snail Race
The Sponge Who Could Fly
I Had an Accident
Missing Identity
Krabby Land
SpongeBob Meets the Strangler
The SpongeBob SquarePants Movie
Have You Seen This Snail?
Ghost Host
Karate Island
All That Glitters
Once Bitten
Bummer Vacation
Squidtastic Voyage
The Thing / Hocus Pocus
Driven to Tears / Rule of Dumb
The Pink Purloiner
Best Day Ever / The Gift of Gum
Night Light
Rise and Shine / Waiting / Fungus Among Us
New Digs / Krabs a La Mode
Roller Cowards
To Love a Patty
Sing a Song of Patrick
Atlantis SquarePantis
Picture Day / Blackjack
Blackened Sponge
What Ever Happened to SpongeBob?
Banned in Bikini Bottom
Penny Foolish / Nautical Novice
Giant Squidward
Patty Caper
Boating Buddies
The Slumber Party / Grooming Gary
Porous Pockets
Pets or Pests
SpongeBob SquarePants vs. The Big One